These titles explore the historical and modern histories of the circus freak show. Composed of both natural and made "freaks" these oddities were exhibited as a supplement to the main big top and gaming attractions. For a smaller traveling circus, having a good sideshow was essential to getting enough visitors to cover expenses and make a profit. Staples of the side show included contortionists, giants, midgets and dwarves, alligator-skinned people, people who had been born without all their limbs, fat people weighing many hundred pounds, and the tattooed people. Animals born deformed, both dead and alive, were exhibited as well. In the post-modern sideshow, the performers are more often freaks of the "made" variety, whereas historically many of those who performed as circus freaks were born with physical differences or deformities.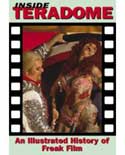 Inside Teradome: An Illustrated History of Freak Film (Creation Cinema)
by Jack Hunter

Jack Hunter makes clear his purpose at the end of the preface to INSIDE TERADOME: "This book is also written from the viewpoint that 'bizarre' films...represent the pinnacle of cinematic art, since any artistic medium can only be explored to its full potential when used to express imaginative extremes." That said, he has produced a wonderful catalog and commentary on films and photographic media that feature human anomalies, both genetic/organic (little people, giants) and man-made (tattooed people), both at the sideshow or for the movies. From Tod Browning's classic FREAKS to the pictures of Joel-Peter Witkin, from THE CABINET OF DR. CALIGARI to Jodorowsky's SANTE SANGRE to David Lynch's THE ELEPHANT MAN, Hunter has managed to cover it all. This book is *loaded* with pictures, letting you in on the freakish details in case your local video store isn't this broadminded.

Freak Like Me
by Jim Rose

Why would a man assemble a group of modern-day, self-made Freaks and tour the world, making people faint and throw up? Written by the group founder/leader, Freak Like Me covers Rose's childhood in Phonenix, getting teased for being cross-eyed and always being tied up while playing cowboys and Indians. Years later, working as an exterminator, Rose hands in his bug sprayer and heads to Europe, picking up the fine art of street performing along the way. Recounted is the birth of the Jim Rose Circus Sideshow in 1991, and the various incarnations up through the tour with Nine Inch Nails in 1994. The book has tons of pictures and descriptions of plenty of things you shouldn't do at home: as Rose intones in his show "go over to your friend's house to practice until you get really good." A bit Rose-centric at times, this is nevertheless an excellent look at the post modern sideshow.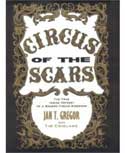 Circus of the Scars : The True Inside Odyssey of a Modern Circus Sideshow
by Jan T. Gregor, Ruby Dalsgard (editor) and Ashleigh Talbot (illustrator) and Tim Cridland

Written by Jan Gregor, who held the position of road manager for the Jim Rose Circus Sideshow, this volume is an excellent counterpoint to Rose's "Freak Like Me." Having read both, I found this to have a broader viewpoint, including more details about and from the varied members of the group. The book covers mid 1991 through 1993 (Gregor's tenure), with many diary-like accounts of tour dates from this time. Also included are notes on historical sideshows, pictures of the original members of the troupe in action and excerpts from a rediscovered 142-year-old circus diary....