This title is currently out of print in the U.S.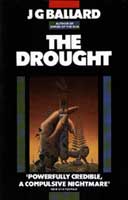 "Water. Man's most precious commodity is a luxury of the past. Radioactive waste from years of industrial dumping has caused the sea to form a protective skin strong enough to devastate the Earth it once sustained.
And while the remorseless sun beats down on the dying land, civilization itself begins to crack. Violence erupts and insanity reigns as the remnants of mankind struggle for survival in a world-wide desert of despair."
commentary from the back cover of the Triad Granada edition