Navel Piercing, 1992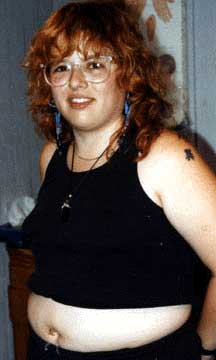 Notice the distinct lack of tattoos in the picture on the right? And the long red hair?
This was June 1992, I had quit my stupid light industrial day job the day before and was up in San Francisco (from Santa Cruz, where I lived at the time) with my friend Jayson to celebrate. I went over to Body Manipulations (they were still on Fillmore then) and Esther pierced me on her very last day in the shop before moving to Amsterdam to open their sister store. The one little bit you can see is my very first tattoo, that is now covered.
The navel piercing was unlike any other: I got a strong rush of energy as the needle pierced me. It went in my third chakra and rushed out the top of my head, and I remember starting to laugh out loud. It was a good one.
I started with a 14g steel captured bead ring in my navel piercing, which took a bit over a year to heal. Now, almost ten years later, it's still one of my most fussy piercings, and likes to flare up during ovulation if I don't take extra good care of myself.
Piercing lore has it that the Egyptian royal family had pierced belly buttons and wore gold rings in their navels, and that this was easily facilitated by the fact that they all had deep navels due to inbreeding. If that is true, then navel piercing has been around for a very long time. Even if it isn't true, there haven't been many occurrences of navel piercing in history, and it's clearly more of a modern body piercing than ear, nose or lip rings. Although highly aesthetic on many navels, this is a very difficult piercing to heal due to placement on the body.