As actor's bodies are their tools, it makes sense to stay as blank as possible to be able to adapt to any role. Makeup more often covers real life artwork like the lizard wearing a top hat on Nicolas Cage's back, or the Chinese demon on Charlie Sheen's shoulder. You may not have ever seen these tattoos on these actors as they are often camouflaged on film and in photo shoots. Utilizing the latest in makeup technology, theatrical tattoo designs can now be made highly detailed, in full-color and set to be water-proof and smudge-proof for the better part of a day or two's shooting, closely approximating the often complex designs and fine details of modern style tattooing.

Most often, you can spot the villian by his tattoos. Robert DeNiro's appearance in the remake of "Cape Fear" with Nick Nolte was intense, as his rendering of the character came with a wiry prison gym physique, almost spray-painted all over with graffiti-like snippets of Bible verse. This character had revenge literally written all over him. It was an impressive makeup job, but the size of the typefaces used belied their ingenuity: they were huge for the camera to read, much larger than real-life scale.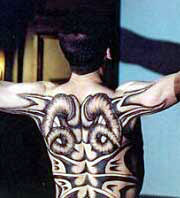 In the "Silence of the Lambs" prequel "Red Dragon" we get to see another tattooed villian, painted onto British actor Ralph Fiennes. The novel has elaborate detail of the full backpiece worn by the killer, a body-builder who believes he is transforming in more ways than one. Early trailers showed a black and white design rendered in a pseduo-tribal/blackwork style, with large curving horns coming down from the shoulders. The full release reveals the whole dragon-like design with scenes of Fiennes' character working out and looking at himself in the mirror, as detailed in the book.
More recently, the hero gets to be tattooed too. In the recent action release "XXX" nearly all the actors sport some form of makeup tattoo. Vin Diesel as Xander Cage, extreme undergrounds sports enthusiast turned spy, has full sleeves, chest and stomach work. Bad-guy Yorgi, portrayed by Marton Csokas, has an elaborate dragon from his neck down to his hips on one side of his torso, almost in homage to Yakuza-like body tattoos.