CANDACE KLING HATS
On a rare, special occasion fieldtrip in graduate school, I visited the Bay Area studio of textile artist Candace Kling. She had devoted her craft to preserving 19th century and earlier specialized needlecrafts: smocking, rusching, miniature flowercrafting among many others. I was the only student in the class who had ever heard of her or seen any of her work. I brought a camera on the off chance that there might be an interesting photo opportunity.
Candace had a fabulously cluttered studio, with many drawers of notions, ribbons, buttons, findings and beads that she let us rummage through. She creates tiny samples of all the little techniques and experiments she's working on and attaches them to big boards for easy reference.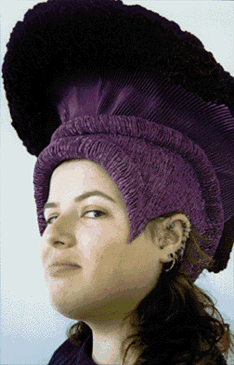 One of her older projects, examples of which I had seen in magazines, were her marvelous helmets. She had a cupboard of forms with these amazing fantasy hats on them: horns, bubbles, ripples, wrinkles and pleats all made of fabric and balanced to wear on the head. Candace showed us special points of construction and handed them around. She said we could try them on, but only myself and one other girl were enthused. How could I pass up such a chance? These things are usually in fancy art shows or collections. I totally felt like Whoopi Goldberg's character "Guinan" on Star Trek. The lower part of the helm is smocked, the upswept part of the crown is pleated and the black top is formed by rusching. All the names refer to a specific style of folding and stitching of the fabrics.