Elevation of style or tacky, tacky, tacky? Only you can decide... Really, Las Vegas during the day is nothing compared to Las Vegas at night. What looks plastic in daylight looks great at night.
COW PARADE LAS VEGAS - following in the hoof prints of other cities, Las Vegas had painted cows along the Strip and in various hotels.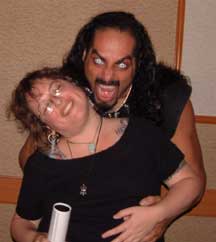 This is my friend Antonio. He's headlinging at the Lord of the Vampires in BITE at the Stratosphere. It's really a fun show.